Registration is now open for the Basics of LiDAR workshop, to be held over two full days, from 8:30 am to 4:00 pm, on January 8-9, 2018, at UW-Eau Claire.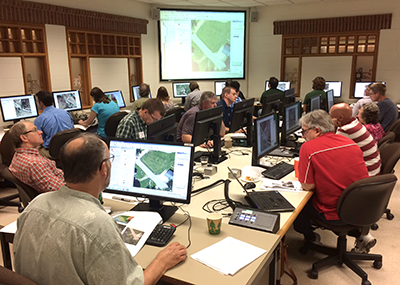 In this workshop, attendees will get hands-on experience manipulating LiDAR data using industry-standard Esri software. Attendees will gain a broad understanding of: raster data; map algebra and raster data processing; raster data structures; raster DEM characteristics including resolution; LiDAR acquisition and data collection concepts; accuracy and error in the context of LiDAR data; limitations of LiDAR; main LiDAR application domains; bare earth applications of LiDAR; terrain analysis; TINs, breaklines and contours; point clouds and LAS files; and visualization options. Attendees will also work with LAS files, using LASD to display data and create raster files and DEMs. Day 2 includes hands-on work creating viewsheds and running hydrological modeling tools.
Day 1 of the workshop will be taught by Joel Nelson, of the Department of Soil, Water, and Climate at the University of Minnesota. Joel has taught similar workshops over the years many times in Minnesota, and taught the previous two workshops at UW-Madison. Day 2 will be taught by Jim Giglierano, Wisconsin's Geographic Information Officer. Jim has extensive background in LiDAR applications and data processing. Other State Cartographer's Office staff will also present material for some of the hands-on exercises.
You can register for the workshop — and get more details — on our training website.
Registration is limited to 28 due to the size of the lab facility available.
The cost of the workshop is $250 but a limited number of $200 registrations are available for students enrolled at a university. Fees can be paid online through the training website.
For questions, please contact Howard Veregin at (608) 262-6852.