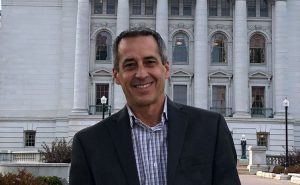 Menet Aero, a Milwaukee-based Unmanned Aircraft Systems and aviation services provider, recently named Kirk M. Contrucci as Chief Executive Officer. Contrucci succeeds Founder, Chairman and Chief Executive Officer Peter Menet, who will serve as chairman and chief operating officer of Menet Aero.
Contrucci is a veteran in the geospatial and aerial mapping fields with more than 33 years of experience. He joins Menet Aero following a more than 30-year career at an architectural, engineering, and geospatial services firm, where he was instrumental in the growth of the company's aerial mapping, remote sensing and land surveying services.
As CEO of Menet Aero, Contrucci will assume responsibility for directing the organization's growth while ensuring profitable operations and continuing Menet Aero's innovative culture and commitment to its clients.
"I am honored and excited to lead the Menet Aero team. With its deep experience in aviation, Menet Aero has been on the ground floor to witness the UAS industry maturing from the very beginning," said Contrucci. "We separate ourselves from the competition by providing our partners and clients with world class aviation support to achieve their goals."
"Kirk not only brings a vast amount of technical knowledge to our team, but also proven strategic experience," says Chairman Peter Menet. "Everything about our company is focused on safely providing decision makers the data they need to make timely, critical decisions with confidence. I chose Kirk to lead our team because he comes from the world of those customers we look to support. He will play a critical role in taking our organization to the next level."
Contrucci holds a Bachelor of Science Degree in geography from University of Wisconsin-Madison and is registered as a Certified Photogrammetrist by the American Society for Photogrammetry and Remote Sensing. He serves on the board of multiple professional organizations, including his current duties as president of ASPRS's Western Great Lakes Chapter and Treasurer of the Geospatial Information and Technology Association's Wisconsin Chapter.
Source: Menet Aero