In 2022 the National Geodetic Survey (NGS) plans to introduce a new terrestrial reference system to replace NAD83. The new reference system – North American Terrestrial Reference Frame of 2022, or NATRF2022 – is earth-centered and epoch-based, and will rely on Global Navigation Satellite Systems (GNSS) and an updated geoid model. The rollout of NATRF2022 will have significant effects on surveying, mapping and GIS across the state and nation.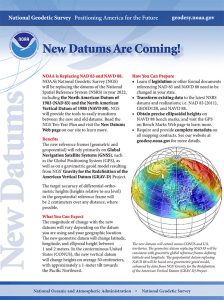 The surveying and geospatial communities in Wisconsin are in the process of creating a Task Force to help prepare for these effects. The Task Force will be organized under the Geospatial Committee of the Wisconsin Society of Land Surveyors (WSLS). Howard Veregin, Wisconsin State Cartographer, will chair the Task Force, and Richard Kleinmann, who chairs the WSLS Geospatial Committee, will be the co-Chair. The Task Force will address the technical, educational, communication, legislative and software aspects required to respond to the change to better position Wisconsin to implement the new reference system.
Bob Beilfuss, WSLS President, has asked representatives of various stakeholder groups to attend an initial "Discovery Team" meeting in Madison on July 19, 2018. The Discovery Team will define the main impact areas of NATRF2022 and identify the main stakeholder groups affected. These groups will be included on the Task Force that is ultimately formed; the main goal of convening an initial Discovery Team meeting is to ensure that the Task Force has all important stakeholders represented.
If you have ideas or suggestions for the topics or the composition of the NATRF2022 Task Force, please contact Richard Kleinmann, 262-522-4920 or Howard Veregin, 608-262-6852.