On January 31, 2019, the Wisconsin Department of Transportation (WisDOT) submitted a proposed rule to the Wisconsin Legislative Council Clearinghouse to begin collecting fees for using the WISCORS (Wisconsin Continuously Operating Reference Station) network.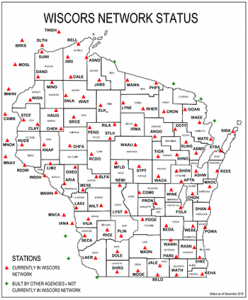 The proposal has been in the works since 2016 when WisDOT reached out to its stakeholders to make them aware of a potential fee being implemented.
The proposal to the Legislature — Clearinghouse Rule CR 19-006 — and related documents can be found online.
The proposal has been submitted pursuant to Wisconsin Statute s. 85.63, which directs the DOT to administer a Surveying Reference Station System consisting of both passive and active components, the latter being defined as a system of "reference stations statewide that continuously transmit global navigation satellite system (GNSS) data to a system server, and the server that receives and processes the data received from the reference stations." This statute also allows the DOT to charge a fee for providing access to the system, with amounts to be established by rule.
According to the fiscal analysis of the proposed rule, the DOT estimates that the cost to maintain the WISCORS Network annually is approximately $355,000. The proposed fee is intended to provide funding for WISCORS Network operation and to maintain and replace CORS equipment and software. Annual maintenance costs include GNSS receiver replacements and firmware updates ($173,500/year), disruption or destruction of WISCORS infrastructure ($40,000/year), WISCORS server and software upgrades ($59,000/year), replacement of CORS telecommunication equipment ($17,500/year) and repair of CORS equipment ($15,000/year).
The proposed fee is $300 per user per year (Individual Yearly Rate), or $300 per user per year for the first five users in the organization plus $150 per user per year thereafter (Organizational Yearly Rate). The DOT will not pro-rate these rates for a period of less than a year. Also proposed is a $50 per user per month Individual Monthly Rate. No Organizational Monthly Rate will be offered.
The following entities will be exempt from paying a user fee: Minnesota Department of Transportation, Iowa Department of Transportation and Michigan Department of Transportation (through Memorandum of Agreements); higher education institutions; WISCORS Cooperative Partners; and the DOT.
The WISCORS Network is accessible 365 days a year, 24 hours a day, with the exception of monthly planned routine maintenance and periodic unplanned and unscheduled system outages. The DOT will monitor the system during regular work hours of 8:00 a.m. to 4:30 p.m. Monday through Friday. The system will not be monitored during state holidays. There are currently over 80 stations in the WISCORS Network.
According to the fiscal estimate for the proposed rule, there are over 3,000 registered users of WISCORS which are categorized as follows: 22% agricultural-related businesses; 12% construction-related businesses; 1% education/research related entities; 53% engineering/surveying businesses; 7% that use the system for GIS mapping; and 5% other.
Update
A public hearing has been scheduled for Thursday, April 11, 2019 at 9:00 am at Hill Farms State Office Building, 4822 Madison Yards Way, Room N115, Madison, WI.
Additional Resources
WISCORS general information (DOT)
WISCORS general information (SCO)
WISCORS Web Server App (DOT)
Survey Control Finder app with WISCORS locations (SCO)
WISCORS Station Listing (DOT)
WISCORS Station Map (DOT)