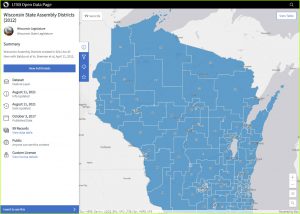 Now that detailed US Census Bureau population and housing statistics have been published, the legislative redistricting process is set to begin. Wisconsin's eight congressional districts and 132 state districts (99 Assembly and 33 Senate seats) will ultimately be defined by state statute before the end of the current legislative cycle.  To get to that point however, the Legislature will be reviewing and evaluating many possible district maps. The final maps will be in effect until the next Census occurs in 2030.
More Details
If you are interested in digger deeper into redistricting, here's a handy online guide to the process in all fifty states (created by the National Conference of State Legislatures). Another useful resource is the Wisconsin Legislative Reference Bureau's "Redistricting in Wisconsin 2020" Guidebook.
In 2020 Governor Evers created a special advisory commission to propose district maps to the Legislature. According to a recent Wisconsin Public Radio story, it isn't clear whether the Legislature will consider maps drawn by the commission. The Governor also has veto power over final maps, which could cause the process to end up in the courts.
For Wisconsin counties, local redistricting began in August, 2021. The local process is facilitated by the Legislative Technology Services Bureau (LTSB), which receives and processes required Census data and provides the software to perform local redistricting. This includes county supervisory districts, municipal wards and aldermanic districts.
Draw Your Own Maps!
The Legislature has also announced a new public "Draw Your District" website where Wisconsin residents can submit their own proposals for district maps.
There are three ways to provide input:
Draw a full Wisconsin Legislative or Congressional District Plan.
Draw one or more districts in a certain region of Wisconsin.
Identify a geographically cohesive area with a common set of interests.
Three free web tools are provided to facilitate mapping: Districtr; Dave's Redistricting; and District Builder.
Completed plans can then be submitted to the Wisconsin Legislature using a submission form. You can also view plans submitted by others.
What's Next
Interested in learning more? If so, you should be able to satisfy your curiosity with the flood of news over the next few months documenting how the process is going, both in Wisconsin and nationwide. From a cartographic/GIS point of view, there is a lot of interesting stuff going on under the hood to ensure that districts conform to all geographic and demographic constraints and criteria (such as "compactness"). However, since redistricting is such a political hot potato, this technical information tends to take a back seat to the battles between political parties and advocacy groups. If you are interested in how redistricting works on a technical level, and even if you don't want to submit a redistricting plan, it might be fun to test drive one of the free tools on the "Draw Your District" website … assuming you have a little free time on your hands.