The Wisconsin Shoreline Inventory and Oblique Photo Viewer is a unique interactive web application that allows users to explore Wisconsin's Great Lakes shorelines and visualize how they have changed over time.
The Viewer combines several related data components documenting different facets of Wisconsin's shoreline. These components include geolocated oblique air photos from the mid-1970s to 2021, shoreline inventories showing coastal structures, assessments of bluff condition for different time periods, bluff and bathymetric profiles, and — for southeast Wisconsin — measurements of short- and long-term shoreline recession. All of this is accessible online through the Viewer's map interface.
The Viewer is a collaborative effort involving multiple project partners. The Association of State Floodplain Managers (ASFPM) developed the original version in 2008 to showcase the oblique photos and shoreline classification developed by Dr. David Mickelson (Emeritus Professor at UW-Madison). The effort was funded by the Wisconsin Coastal Management Program. The original Viewer was a GeoExt and OpenLayers application that ASFPM's Jason Hochschild coded in Javascript by hand.
Subsequent updates provided additional data, photos and analyses while also increasing the functionality of the web application. An updated version using node.js was developed by Caitlin Wolters (a former State Cartographer's Office student) to house additional years of shoreline photos. During that redesign the photos and county .zip files were moved to WisconsinView to be hotlinked from their servers into the viewer. Later additions included the bluff and bathymetric profiles (derived from the US Army Corps of Engineers LiDAR data collected for FEMA, the Federal Emergency Management Agency) and shoreline recession information (from the work of Adam Bechle, Chin Wu, and others at the UW Sea Grant Institute and the UW-Madison Department of Civil and Environmental Engineering).
The Wisconsin Wing of the Civil Air Patrol has been an integral part of the effort. This group of volunteers provided the ability to collect photos on an annual basis over the last five years. It's doubtful the project would have had half as many sets of photos if it had been dependent on hiring a commercial pilot.
In the summer of 2021 the Viewer was again rebuilt by Hochschild using Esri's ArcGIS Online. The new version also has a complete set of 2021 oblique photos of the entire coastline.
The Oblique Photos
The Viewer includes over 93,000 oblique photos arranged in chronological series: 1976-78, 2007-08, 2012, 2016, 2017, 2018, 2019, 2020 and 2021. Each series can be toggled on or off independently for viewing in the application interface. The photos were acquired from various sources including the Wisconsin Department of Natural Resources, US Army Corps of Engineers and Wisconsin Civil Air Patrol, as well as by David Mickelson and others with funding from the Wisconsin Coastal Management Program.
The photos cover Wisconsin's Lake Michigan shoreline from the Illinois state line to the Michigan border, and the Lake Superior shoreline between the Minnesota and Michigan borders. The photos are geolocated and as such they appear in the map interface in their actual location, allowing users to easily find photos for an area of interest and compare photos from different years.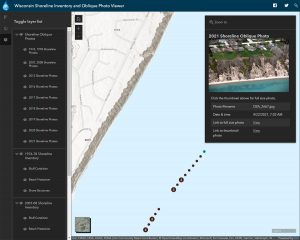 The table below shows the number and size of the photos in each series.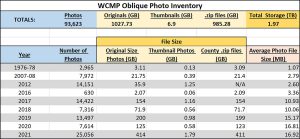 Other Data Layers
The Viewer also contains a series of shoreline inventories showing bluff condition (unstable, moderately unstable and moderately stable); beach protection (docks, breakwaters, marinas, rip-rap, etc.); and shore structures. Inventories are available for 1976-78, 2007-08 and 2018-19. These inventories are from the research of David Mickelson and cover the entire Wisconsin Great Lakes shoreline.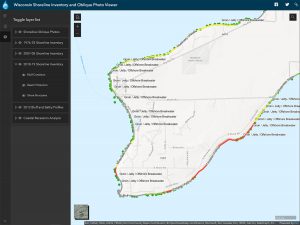 Bluff and bathymetric profiles are available for portions of the Lake Michigan coast. These profiles were extracted from 2012 LiDAR data flown by the U.S. Army Corps of Engineers.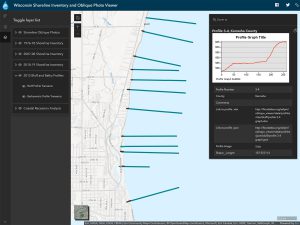 Finally, the Viewer provides Lake Michigan coastal bluff and shoreline recession information for Kenosha, Racine, Milwaukee and Ozaukee Counties. Recession is the distance a bluff or shoreline has receded, or moved landward. It is shown over two analysis periods: a long-term period from 1956 to 2015 and a short-term period from 1995 to 2015.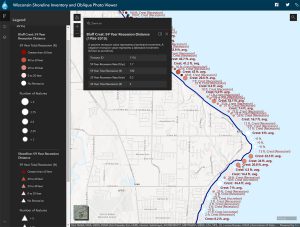 Recession information was produced as part of ongoing studies at UW-Madison's Coastal Sustainability Laboratory. Each recession data point represents an average of recession measurements along a 300-foot section of coast and does not represent a specific property. By clicking on a point, the actual average measured recession distance and an average annual rate of recession can be viewed.
Data Access
In addition to being viewable in the app, the photographs and data layers are also available to the public for downloading. All GIS layers can be downloaded as a single GIS Geodatabase, while bluff and bathymetric profile data are also available in JSON and Excel formats. The oblique imagery is available with each county/year combination provided as a separate archive.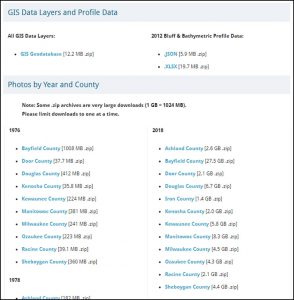 More Information
More information about the Viewer and its history is available on the About Page.
A short video tutorial is also available showing how to use the Viewer's interface.
Contributors and Funding
As mentioned above, there is a long list of collaborators and contributors over the 13+ year history of the Wisconsin Shoreline Inventory and Oblique Photo Viewer:
ASFPM Flood Science Center
Dr. David Mickelson, Geo-Professional Consultants, LLC
Wisconsin Coastal Management Program
WisconsinView
Wisconsin Wing, Civil Air Patrol
University of Wisconsin Sea Grant Institute
University of Wisconsin-Madison Coastal Sustainability Laboratory
UW Civil & Environmental Engineering
Caitlin Wolters
The Viewer has been funded through multiple grants from the Wisconsin Coastal Management Program and the National Oceanic and Atmospheric Administration, Office for Coastal Management.