How long does it take to tell the story of maps and mappers from prehistoric times to the present?  As it turns out, approximately forty years. 
Inside UW recently published a celebratory article documenting the History of Cartography project, now in its concluding stages as the project team prepare to publish their final volume.  All in all, the project has produced six volumes spanning eight books since their start in 1981.
Matthew Edney, the project's director, was brought on in 1983 and has retained his passion for maps throughout the labor of love required to produce a comprehensive history of cartography. Three skilled graduate students, numerous editors, and hundreds of contributors (both contemporary and historical) round out the hardworking team.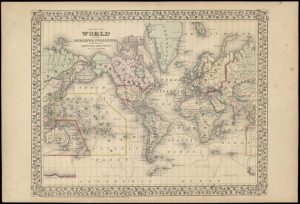 Edney and his team focus on educating, but also exploring the sheer vastness of cartographic tradition across time and space.  The project's editors believe that their books are "making an impact, internationally as well as nationally."  
To learn more about the project, visit the links above – maybe you'll come across a favorite map of your own.