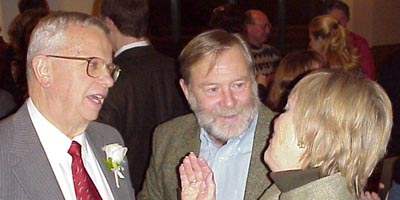 D. David Moyer reminisces with Ben and Sue Niemann. (photo by Bob Gurda)
A career public servant, D. David Moyer has decided to hang up another of the many hats he has worn over the years. On January 9 he retired from his primary occupation, that of Wisconsin State Geodetic Advisor for the National Geodetic Survey (NGS). At a retirement party that evening, numerous people lauded his accomplishments and contributions. There were also some hilarious stories.
Moyer has been a key player in many of the milestones associated with GIS and land records modernization in Wisconsin. He first came to Wisconsin in 1969 as an employee of the Economics Research Service, an arm of the U.S. Dept. of Agriculture, to work on a PhD in the area of land information economics. In 1985 he shifted gears and began his tenure with NGS.
Many roles, many hats
Over a long and distinguished career, Moyer has contributed his talent, expertise, and effort to advance knowledge and programs at the local, state, national, and international levels. The NGS sent him to numerous foreign countries to consult on aspects of land records and mapping.
He was staff to the Wisconsin Land Records Committee, served on the Dane County Board for 14 years, was president of the Wisconsin Land Information Association and URISA, and organized numerous conferences at the national level. He also led the Wis. Land Information Board's Elevation Data Task Force which issued its report a year ago.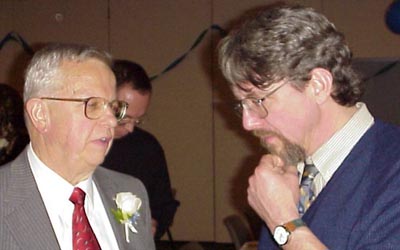 Jerry Sullivan and D. David Moyer consider a vexing land information problem?
(photo by Bob Gurda)
In his NGS role over the last 18 years, he worked closely with staff at the Wis. Dept. of Transportation. As a state geodetic advisor trained as an economist (rather than a geodesist), Moyer was an exception to the rule. However, his interest in the benefits streaming from investments in the modernization of land information were critical to work in Wisconsin to upgrade survey networks including the current Height Modernization Program.
But not slowing down…
At the moment, Moyer is continuing (on a contractual basis) to fill the role he retired from, pending a decision by NGS on their choice for a new state geodetic advisor. He is also finishing up a book (with retired UW-Madison professor Ben Niemann) on Wisconsin's experience in modernizing land records.