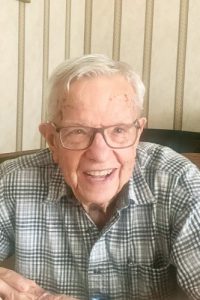 We learned Wednesday of the passing of Dr. D. David Moyer, former National Geodetic Survey Advisor to Wisconsin, Honorary Fellow at the University of Wisconsin-Madison, and long-time advocate for both the Wisconsin and national land information communities.
I can't begin to list David's many accomplishments, both personal and professional.  To say he was a pioneer is an extraordinary understatement.  Among his many leaderships posts, he served as President of the Wisconsin Land Information Association (WLIA) and also as the President of the Urban and Regional Information Systems Association (URISA).
In a kind note she posted on LinkedIn, Dr. Nancy Von Meyer shared a seminal paper authored by David entitled "Land Records Modernization – 50 years and Counting."  It's an incredible history lesson, and serves a testament to David's uncanny ability to document, analyze, and assess the many complicated issues associated with land records modernization.
On a personal note, I first met David around 1998 when I was a member of the Nebraska GIS/LIS Association conference planning committee.  David and Diann Danielsen (President and President-elect of WLIA, respectively) were generous enough to travel from Wisconsin to Nebraska to deliver a keynote address on the history and operations of the Wisconsin Land Information Program.  When I routinely saw David at the annual WLIA conference, many years after his "retirement," I always kidded him about when he would actually retire.  That was classic David– always dedicated to his profession and those around him.
Services for David will be held on Saturday October 2nd in Madison, and also on Saturday October 9th in New Richmond, Ohio.  See the Cress Funeral Home Web site for more details.
We wish the best to David's wife and family in this difficult time.  He will be missed.
Also see:
Moyer Retires from Multi-Faceted Career (SCO new article, February 2004)
Amidst Progress, Some Problems Persist (SCO interview with David, February 2004)