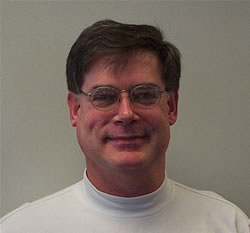 John Ellingson of Black River Falls, WI has been named the new Wisconsin State Geodetic Advisor for the National Geodetic Survey (NGS). The appointment was made in early December by NGS, a federal agency that is part of the National Oceanic and Atmospheric Administration (NOAA). Ellingson replaces D. David Moyer, who served as the state's geodetic advisor for many years.
Ellingson was previously the Land Information Coordinator and Surveyor for Jackson County, WI, serving in that position for sixteen years. John is a Civil Engineering and Land Surveying graduate of UW-Madison. As the state advisor, Ellingson will split his time between a new WI Department of Transportation satellite office on Kinsman Boulevard in Madison, and an office in Black River Falls. Initially, John's duties will be directed toward work associated with the WI Height Modernization Program.
The NGS State Geodetic Advisor Program is a cost-sharing agreement that provides a liaison between NOAA and the host state, usually with a jointly funded NOAA employee residing in the state to guide and assist the state's geodetic and surveying programs. NGS has state advisor agreements in place with 29 states. These programs are designed to fill a need for more accurate local geodetic surveys and are in response to the states' desire to improve their surveying techniques to meet federal standards and specifications
John may be contacted via e-mail at john.ellingson@dot.state.wi.us, or by phone at (608) 516-1382.