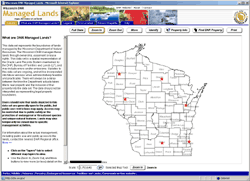 Whether you're a fan of the outdoors or just curious about state lands, the Wisconsin Department of Natural Resources (DNR) has the perfect tool for you. The DNR's new Managed Lands web mapping application can tell you virtually everything you want to know about DNR lands across the state, including property descriptions and recreational opportunities.
DNR Managed Lands are a collection of properties that the DNR Bureau of Facilities and Lands manages through ownership, easement, or lease rights. Most Managed Lands are open to the public, but public use restrictions may apply. Depending on the management practices for each property, different activities may be allowed, from fishing or hunting to hiking and biking. The focus of the application is of course on Managed Lands, but as a reference aid, many other spatial data layers are also available, including political boundaries, hydrography, transportation, and digital orthophotos.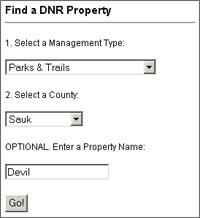 To better facilitate inquiries regarding DNR Managed Lands, the site includes a number of useful tools. For example, with the "Find DNR Property" wizard, you can find properties by selecting a management type (Forest, Parks & Trails, Natural Areas, etc.), a county, and if desired, a whole or partial property name. Depending on how specific your query is, you are given a list of matching sites, or the mapping application zooms directly to the property of interest.
Once found, the "Property Info" tool allows you to view virtually every piece of information available about that site. Hyperlinks to the DNR website or the local DNR Service Center are also provided if you need to contact someone for more information. A number of other tools are available, including a location finder (cities/villages, counties, etc.) and a more general attribute identifier. Of particular interest is the "Extract Shapefile" tool, which allows you to identify an area, and then download Managed Lands data to your computer as an ESRI shapefile.
The Managed Lands site is one of the newest on a long list of successful web mapping applications created by the DNR (See: http://www.dnr.state.wi.us/maps/gis/applist.html). Some you may already be familiar with "WebView," another popular DNR web mapping site. WebView is intended to be a general gateway to DNR GIS data, while other more focused applications like Managed Lands serve to fill certain niches for more specific audiences. The result is a simple yet elegant web mapping application that serves its purpose well.