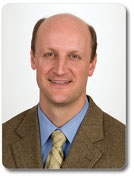 GeoDecisions recently announced the addition of Dave Mockert to their Madison office. In his new role, Dave is responsible for leading business development efforts and account management in the municipal, state government, and commercial sectors.
Dave brings more than 16 years of experience in enterprise information technology (IT) and geographic information system (GIS) development and organizational management to his new position. He will focus on securing, managing, and developing new projects, as well as integrating geospatial solutions with existing systems.
Prior to joining GeoDecisions, Dave served as the director of local and state practice for GeoAnalytics. He also served as the geographic information officer and deputy chief information officer (CIO) for the state of Wisconsin, as well as the CIO for the city of Indianapolis/Marion County, Ind.
Dave holds a bachelor of science in chemistry and a bachelor of science in geography from the University of Wisconsin-Madison and a master of science in public and environmental affairs from Indiana University. He serves on the board of directors of the Wisconsin Land Information Association.
Source: GeoDecisions