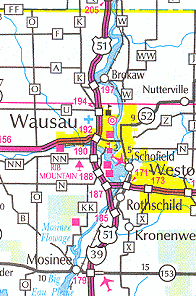 We recently received a call from a person wondering why the small, unincorporated community where she lives is not represented on the state highway map. Further, she wondered what the process is to "get on the map."
For the answer, I turned to Ken Cowan at the Wisconsin Department of Transportation. Ken is one of the folks who oversees the development of the official State Highway Map.
The Wisconsin State Highway Map is a graphical representation of the state's most current highway transportation infrastructure. Because of limited space, policies were developed to either limit or exclude information displayed on the state map. The most important consideration in adding information to the map is available space. All decisions pertaining to map content are made in the best interest of the map user, and are reviewed and validated using these policies as guidance.
Incorporated communities are added to the map as they originate. Official notification and verification of their creation, deletion and updates are received from the Department of Administration (DOA). This information is also available on the DOA Web site, in the Wisconsin Geography, Maps and Graphics section.
Requests to add unincorporated communities should be sent directly to Ken Cowan via e-mail. Anyone may submit such a request, but the following criteria must be met:
Must be adequate space on the map to display the community name and symbol.
The community should have a reasonable permanent population (a minimum of 50 people) within a reasonable geographic proximity (1/4 miles in each direction of a common intersection or 1/2 mile in diameter).
The community should have either a dependable motorist service such as a service or repair garage, a major traffic attraction such as a consolidated school or major industry, or a recognized point of interest to which tourists might be regularly directed.
Upon receiving a request, the map location is reviewed to determine whether the community can be added without degrading the display of the map. The name and symbol must be clearly visible to the map user.
Aerial imagery or the DOT's Photolog are used to validate a presence and population at the physical location. (Photolog is the photographic compilation of all state and federal highways compiled by a specially equipped vehicle.)
The requested name and community attractions are verified mainly using official records, Web searches, and testimonials from official sources. The official names for all communities displayed on the state map are taken from the most current edition of the State of Wisconsin Blue Book.
The person I spoke with followed the procedure outlined by Ken, and was able to make a case for inclusion on the next edition of the highway map. Thanks Ken!