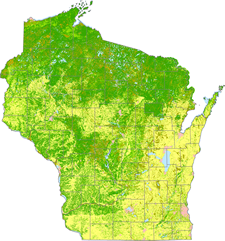 We are excited to announce the addition of Matthew Bougie, Jo Horton, and Carly Mertes to our staff.  All three will be focused on the Wiscland 2 project, which formally began on May 1st of this year.
Matt is currently performing double-duty as a student in the UW-Madison GIS Certificate Program while working on the land cover project.  Matt started working on an early land cover pilot project several months ago, and has done an outstanding job organizing a large spatial database used for land cover training and validation data. He has a Bachelor of Science in Biology from UW-Green Bay.
Jo was most recently employed by the Wisconsin Department of Natural Resources, where she was engaged in a variety of land cover projects.  Perhaps most notable was her work evaluating land cover composition change over the Glacial Habitat Restoration Area of Wisconsin.  She also conducted several national and continental-scale land cover projects while working for the UW-Madison Center for Sustainability and the Global Environment (SAGE).  Jo has a Bachelor of Science in Natural Resources from UW-Madison, and a post-graduate Certificate in GIS, also from UW-Madison.
Carly is a recent graduate of the UW-Madison Cartography and GIS MS program. For her thesis, she focused on detecting change in urban areas using MODIS satellite data. While working on her degree she also worked for the World Bank as a Research Scientist, where she coordinated a large urban land cover mapping project. This builds upon significant remote sensing experience gained working for the UW Center for Sustainability and the Global Environment, where she conducted a variety of studies using medium-resolution satellite imagery.
All three bring considerable land cover mapping expertise to the SCO, and we look forward to working with them along with Dr. Mutlu Ozdogan (UW Forest and Wildlife Ecology) over the next two years.
To learn more about the Wiscland 2 project, visit our land cover project page, an article published in early May, or this one-page infosheet.  The project is a cooperative effort between UW-Madison and the Wisconsin DNR, with funding from the Federal Aid in Wildlife Restoration Program, grant #W‐160‐P‐25.