Background
In 2015 the UW-Madison Baldwin Wisconsin Idea Endowment awarded a small grant to the UW-Madison Forest Landscape Ecology Lab (FLEL) and the Wisconsin State Cartographer's Office (SCO) to gather information on user needs for the Wisconsin Historic Landscape Database. The project team held a series of public forums at sites around the state to gather community input. The goal was to gain a better understanding of the user community and user needs, to help make the Historic Landscape Database more accessible and useful to interested citizens, community organizations, individual landowners, government agencies, land information professionals, educators, and others.
The Wisconsin Historic Landscape Database is a unique resource. It is derived from the 1832-1866 General Land Office (GLO) survey of the region that would become Wisconsin. Surveyors divided the landscape into a grid of townships and sections that define the Public Land Survey System (PLSS) while documenting information about soils, vegetation, cultural features, and wetlands.
In the 1990s the FLEL transcribed the handwritten GLO notes to produce a digital database containing detailed historical information about the state's ecosystems ‒ prairies, savannas, wetlands, original forests ‒ through data on size and species of trees; observations about soils and vegetation; notes on features such as timber areas, ore outcroppings, and general suitability of the countryside; and information on historical cultural features. All data elements are linked spatially to PLSS locations to produce a true GIS database.
A primary factor inhibiting wider use of the database is the complexity of its format and a lack of GIS software and training for many users. Analysis of database requests over the years shows a strong preference for more user friendly formats, including paper maps and web maps.
Project Goal
The goal of the Community Forum project was to identify enhancements that would make the Historic Landscape Database more accessible and useful to current and potential users. The project team implemented a series of forums throughout the state to elicit information from users about which features of the database were perceived as most valuable. All forums were free and open to the public and a total of 73 people participated. An online survey was also released.
Key Findings
Forum participants expressed a great deal of interest in the Historic Landscape Database. Potential uses mentioned most frequently include:
Educating students and the public about how the present landscape has been altered based on the historic record.
Improved land stewardship focusing on restoration and conservation.
Analysis of land use/land cover change to better understand the past and model future change trajectories.
Land management including planning, biofiltration, and drainage districts.
Many participants expressed a need for enhanced data access options, including:
An interactive web application with functionality and tools to search, query, zoom, and identify change over time in the data.
A variety of GIS data formats for download.
Map services to allow the data to be integrated into other online maps.
The ability to link to other datasets, maps, and air photos for comparison and analysis.
Access to processed data, such as maps of tree classifications and other interpreted data, and to collections of pre-made synthesized maps on a diversity of themes.
Ease of use, with accessibility to data regardless of skill level.
The most common concerns with the data reflected questions about accuracy and reliability in the surveyors' notes, including individual surveyor bias. With this in mind, participants showed an interest in data interpretation guides and workshops to provide more guidance on data use.
The final project report gives more detailed results of the forum discussion and online survey.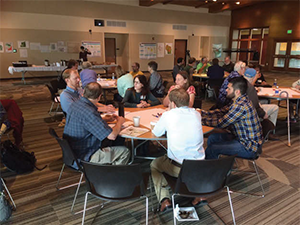 Conclusion
Forum and survey results show that there is a wide diversity of interests and potential applications for the database. As such, there is interest in a diversity of database components, including both cultural and natural features.
There is also a wide range of data needs, from raw data on the one hand to interpreted maps on the other. Attendees showed an interest in education and training to help ensure proper data interpretation.
Attendees clearly articulated the need for simple data access and visualization tools for non-technical users and educational purposes. At the same time, there was also demand expressed for advanced tools for custom data integration and analysis for more advanced users.
In a sense, the results show that users "want it all." While this finding reflects positively on the wide utility of the database, it also poses some challenges for identifying priorities for future work, since it is not possible to meet all needs. One possible solution is to identify a critical mass of users within a specific area, such as community education, and engage with these users in depth to identify attainable goals that would improve their abilities to access and use the data.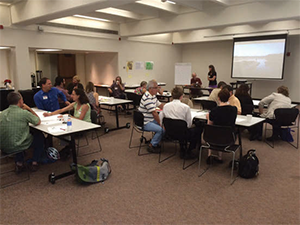 What's Next?
The findings and recommendations from the study will be used in future grant proposals to ensure that funding is being used to achieve goals of value to the community. At present the project team is evaluating possible funding sources and specific project ideas.
Acknowledgements
The project team would like to acknowledge the Ira and Ineva Reilly Baldwin Wisconsin Idea Endowment for funding the Community Forum project.
Project Team
David Mladenoff, co-PI
Beers-Bascom Professor in Conservation
Department of Forest & Wildlife Ecology, University of Wisconsin-Madison
Howard Veregin, co-PI
Wisconsin State Cartographer
Department of Geography, University of Wisconsin-Madison
Jodi Forrester
Associate Scientist
David Mladenoff Forest Ecosystem and Landscape Ecology Lab
Matt Noone
GIS Specialist
David Mladenoff Forest Ecosystem and Landscape Ecology Lab
Mitch Johnson
Wisconsin State Cartographer's Offfice
Department of Geography, University of Wisconsin-Madison