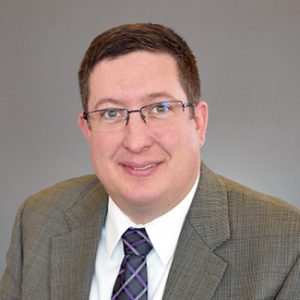 Jason Krueger, CP, GISP, has been promoted to vice president of the Geospatial Division. Krueger has nearly a quarter-century of experience in aerial mapping, remote sensing, and GIS, including 14 years with Ayres. He most recently managed the aerial mapping operations within Geospatial. In his new position he oversees both aerial mapping and land surveying, which together comprise Ayres' largest division.
Krueger is a certified photogrammetrist and GIS professional who joined Ayres in 2007 as a project manager. In the past five years as aerial mapping manager, he has led the growth of the group in multiple locations, from North Carolina to Colorado. Krueger has been refining his leadership skills for years and aims to use his organizational acumen and the skills of the excellent team around him to drive growth in the division. "When there are challenges to work through, I know that there will always be a great team around me to lean on," Krueger says.
Goals for expansion include cultivating new clients and opportunities in the West and the Southeast, as well as in services delivered via Ayres' unmanned aerial systems, otherwise known as drones.
Krueger's experience includes work in the public and private sectors. His specialties include high accuracy mapping applications for transportation design, utility survey, and municipal public works.
"Our geospatial clients know that Ayres is committed to seeking out the best and newest technology for delivering projects ranging from topographical surveys to statewide aerial mapping and lidar," says Bruce Ommen, president. "Clients also know how proactive Jason is in his communications as projects are planned and then delivered within time and funding constraints. Jason will bring that mentality to everything Geospatial does."
Krueger earned a bachelor's degree in geography from the University of Wisconsin-Stevens Point.
Source: Ayres Associates