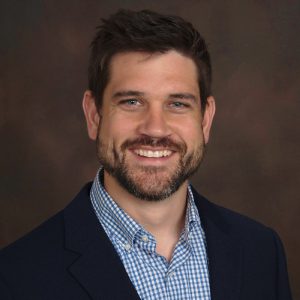 Congratulations to Zachary Nienow, GISP, for being named Ayres' new manager of Aerial Mapping, effective February 21.
Zach has been in the geospatial industry for 17 years and has managed hundreds of Ayres projects. His most substantial project accomplishment has been as program manager for Wisconsin's statewide 2020 digital orthoimagery and elevation data program, called WROC. Zach's leadership and perseverance guided the surefooted delivery of data products to over a hundred clients after executing the collection of aerial imagery and lidar touching all 72 Wisconsin counties – all while navigating the unprecedented uncertainty of the early days of the COVID-19 pandemic.
Zach looks forward to leading a large team of aerial mapping experts at Ayres to deliver on important and challenging projects for our clients.  Zach has served on the board of directors for the Wisconsin Land Information Association since 2016, including taking on the job of WLIA president this year. Zach enjoys working with his peers around the state on WLIA's endeavors in statewide mapping programs, land information legislation, and educational and networking events.
"Zach's people and leadership skills and his gravitation toward innovation will propel the Aerial Mapping Group as it finds new clients to serve in the West, the Southeast, and the Midwest," says Jason Krueger, CP, GISP, vice president. "I look forward to many more great aerial mapping outcomes under Zach's leadership!"
Zach is a certified geographic information systems professional (GISP) and holds a bachelor's degree in cartography/GIS and physical geography from the University of Wisconsin-Madison.
Source: Ayres Associates