It's logical to assume that if a place name appears on a map, a community exists there, but this assumption is sometimes incorrect. Some places that appear on maps existed in the past, but have since disappeared. Sometimes a community is relocated, but maps continue to show its old location, or the mapped location is simply incorrect. In other cases, maps show places that never existed as distinct communities.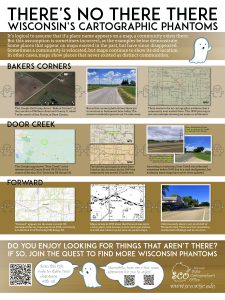 Such "cartographic phantoms" are surprisingly common on the maps we use every day, including Google Maps, US Geological Survey topo maps, and commercial maps and atlases. I have written a few articles about this phenomenon using Wisconsin examples (here, here and here).
If you enjoy looking for things that aren't there, please consider joining the quest to hunt down more cartographic phantoms across the state. Just in time for the Wisconsin Land Information Association Annual Conference in Elkhart Lake, I have produced a short list of some potential phantoms you can explore in nearby Fond du Lac, Sheboygan and Manitowoc Counties. These are listed below.
The articles mentioned above will give you some pointers on the sources you can use to conduct your cartographic research. One of the best sources is the US Geological Survey's topoView app, which contains georeferenced scans of historic USGS topographic maps going back to the late 1800s, as well the 1:24,000-scale "US Topo" series current to 2018. Another indispensable source is the Wisconsin Historic Society's online historic map and atlas collection, with detailed historic plat maps and atlases for counties throughout the state.
With these two resources you can conduct a lot of research from the comfort of your easy chair, before going out in the field to see what's on the ground at the location today.
If you do find some interesting information, whether its for the phantoms listed below or others you may have come across in your travels, please consider sharing. The QR Code at the bottom of the poster (see graphic above) will take you to a short online survey tool that allows you to report on your finds and submit a photograph. If we get enough submissions, we will share the results on this website in the future.
Fond du Lac County
Dexter
Appears on maps a few miles north-west of the City of Fond du Lac, on the Canadian National Railroad line midway between Kinker Rd. and Subway Rd., in the Town of Friendship. Despite the map label, it does not appear there is, or ever was, a community here. It might be difficult to visit this location on the ground, as it is not near a road and all adjacent land is privately held.
Dundee
Appears on maps 1/2-mile east of the south tip of Long Lake, in Kettle Moraine State Forest, in the Town of Osceola. The actual community of Dundee, however, is a mile to the south-west, at the intersection of WI-67 and County Highway F. So how did Dundee get mislocated? Hint: Both US Topos and Google use the GNIS (Geographic Names Information System) for their "populated place" layer.
Metomen
Shown on maps a few miles south-east of Ripon, at the junction of the Wisconsin and Southern Railroad line and Brandon Rd., in the Town of Metomen. This location is also sometimes labeled as Reeds Corners. There was a Metomen Post Office at one time. Sometimes the locations of post offices changed, which may contribute to the confusion over the name. A few homes and business exist at this location today.
Sheboygan County
Hulls Crossing
Appears on maps about 3/4-mile north of the intersection of Cherry Rd. and Hulls Crossing Dr., in the Town of Greenbush. A railroad line once ran east-west across Hulls Crossing Dr. at this location. There is some evidence a railroad station also sat here. It doesn't appear that there's much here today, however.
Mosel
Located at the border of the Towns of Mosel and Sheboygan, on County Highway LS. Mosel appears on some maps — such as US Geological Survey topo maps — but it is not certain that a community of this name ever existed here.
Manitowoc County
Cato Falls
Appears on maps at the intersection of Clarks Mills Rd. and Leist Rd., just north of the Manitowoc River, in the Town of Cato. Cato Falls (the hydrologic feature) is close by. There is not much here today, but at one time there may have been a sizable community, along with a mill at the falls.
Duveneck
Shown on some maps — including Google maps and the latest US Geological Survey topo maps — on the Fox Valley and Western Railroad line, adjacent to County Highway CR, midway between Carstens Lake Rd. and County Highway C, in the Town of Newton. It's hard to imagine there was a ever a community at this location. Perhaps it was only a railroad crossing.
Hickory Grove
Appears on maps at the intersection of Hickory Grove Rd. and Herold Rd., in the Town of Cooperstown. Was there ever a community here called Hickory Grove?
Meeme
Appears on some maps at the intersection of WI-42 and County Highway XX, in the Town of Meeme. There was a Meeme Post Office here in the late 1800s, but there's no community today. When did it disappear? Is the community name an error due to the fact that it is within a town with the same name?
Good luck with your phantom hunting, should you decide to accept this mission!