The City of Fitchburg, WI recently received an honorable mention in the annual Exemplary Systems in Government (ESIG) competition run by the Urban and Regional Information System Association (URISA). The ESIG awards recognize exceptional achievements in the application of information technology that have improved the delivery and quality of government services.
Fitchburg's "Staff Analyst" application was one of 27 nominees in the Enterprise Systems category. Systems in this category are outstanding and working examples of using information systems technology in a multi-department environment as part of an integrated process.
Data Sharing and Inter-departmental Communication Was Cumbersome
In 2000, the City of Fitchburg had several different departments (Assessing, Public Works, Fire, and Planning) with their own databases and methods for accessing information. The individual needs of each department were being met with varying degrees of success, but data sharing and interdepartmental communication were cumbersome at best. Different software packages, combined with different data collection methods and lack of data sharing between departments led to a host of problems.
"We had a significant problem in that many of our departments maintained independent, stand alone databases that didn't work together. Plus, keeping information in all of these databases current was a challenge" according to Felipe Avila, with the City of Fitchburg.
Fitchburg decided to bring all departmental data into one system accessible by anyone within their city government. In addition to unifying data and communication, the use of GIS would enable city employees to perform data analysis and visually access information via a digital map.
Simplified Interface Makes Life Easier for Employees
After a detailed needs analysis involving users throughout the organization, City of Fitchburg staff worked with LeMahieu Consulting, LLC based out of Bloomfield Hills, MI to design the application.
Staff Analyst is a customized ESRI ArcView 3.3 interface that took the city databases and joined them with spatial data provided by the Dane County Land Information Office. The ArcView user interface was simplified to include only commonly accessed information and GIS tools. As a result, minimal training is required to educate employees in using the system.
The applications tie together information from three major databases including parcels, addresses, and street centerlines. In addition there are dozens of departmental-specific databases that can be accessed such as voter registration, zoning, watersheds, fire hydrants, sanitary manholes and storm sewers.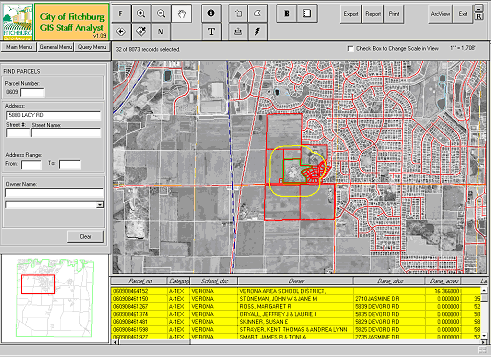 Staff Analyst allows the user to create buffers around properties for reporting purposes. In this case, parcel owners within a specified distance of a school are identified.
Improving Service is the Key
Staff Analyst has the primary benefit of improving service to Fitchburg residents. Records such as garbage collection days, their city alderperson, or property line locations are available within seconds when they call a city office.
The increase in worker productivity has been significant. Searches that used to take hours can now be done in minutes. Estimated cost savings amount to approximately $60,000 per year in staff time. Equally as important, however, is the fact that "front desk personnel now have much more information available to them at their fingertips, which results in satisfied residents" according to Avila.
When it comes to notifying residents of a rezoning, or other land use action, Staff Analyst has had a big impact according to Eric Zweber, Assistant Planner/GIS Specialist.
"The Planning Department is required to send a notice to everyone within 300 feet or three properties of an applicant. In many instances, this may be between 10 and 100 properties. With Staff Analyst, we can buffer 300 feet from a selected property, adjust the results to include three properties deep, and print a map of the area and a list of property owners on pre-formatted mailing labels. Staff Analyst saves hours of time and provides a map of the proposed land use action and contact information, which was not included in the past."
Public works director Paul Woodard is very happy with the new system. "If a resident calls with a concern, I can enter their name and address and it will bring up an aerial photo of the resident's property. I can do this while speaking with them on the phone. This allows me to obtain a better understanding of their concerns, whether it is a traffic issue, sewer and water locations, or a general question about their neighborhood."
"By having all of this data in one central system, it has eliminated the need to search through paper files to find the information needed to serve the public. Having information at your fingertips has proven to be beneficial in many ways, and improves the speed at which we serve our residents."
For more information on Staff Analyst, contact Felipe Avila at (608) 270-4277.
Sources: URISA ESIG program, City of Fitchburg