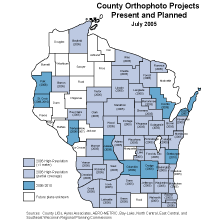 Status map #1: 2005 ortho projects.
2005 is shaping up to be a banner year for aerial imagery acquisition in Wisconsin. According to information we received from several Regional Planning Commissions (RPCs), county Land Information Officers, and vendors, 44 counties and at least 85 municipalities are flying orthophotography projects this year.
More color products, improved spatial resolutions
As technology improves, processing costs fall, and the marketplace opens up with new and improved products. While the majority of existing ortho imagery in the state is black and white, a significant amount of color imagery was acquired this year (see status map #2). Lower production costs are also making higher resolution imagery more affordable. In the past it was unusual to find counties acquiring 12-inch resolution imagery, whereas now it's fairly common, even in some relatively rural areas. This year, eight counties are flying county-wide 6-inch imagery (see status map #3).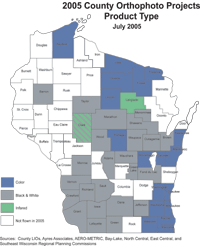 Status map #2: Product types for county projects.
Municipalities active as well
In addition to the county-wide projects happening around the state, at least 85 municipalities are flying this year. In most cases, cities and villages are acquiring 6-inch resolution imagery in conjunction with a lower resolution (12 inch or 18 inch) county-wide project. One city, Fond du Lac, acquired 3-inch color imagery this spring.
Regional consortia lend a hand
So why is there so much activity this year? Historically, many of the more urbanized counties in the state have settled into a five-year repeat cycle since 1995. Predominantly rural counties are typically flown less often, sometimes with 10 years passing being flights. So, simple timing is one reason for all the activity this year.
The other part of the answer is cost savings achieved by groups banding together. In the northeast corner of the state, Andrew Jennings (East Central RPC), Andy Faust (North Central RPC), and Josh Schedler (Bay-Lake RPC) pulled together counties in their respective regions to coordinate ortho projects. A similar effort has been evolving in the southwest part of the state for over 10 years, originally under the guidance of Nancy von Meyer, and then helped along by Ayres Associates. In the Milwaukee area, the Southeast WI Regional Planning Commission (SEWRPC) led the initiative to acquire imagery on behalf of their member counties.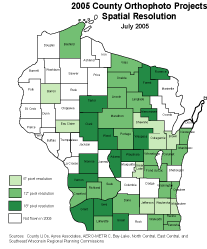 Status map #3: Spatial resolution of county projects.
The role of the consortium in the three regions varied, but in all cases, cost savings were the most tangible result. Less noticeable, but equally as important, was the peer support that naturally occurs with working together. Developing contracts was also somewhat less onerous, since many of the details were hashed out at the consortia level. Other related initiatives such as a digital orthophoto QA/QC workshop are evolving from the consortia.
North & West Orthophoto Consortium in the works
Following lessons learned this year in other areas of the state, the Mississippi River RPC (MRRPC) is taking the lead on organizing a new orthophoto consortium. The goal is to pull together up to 14 counties in northwest Wisconsin for spring 2006 ortho imagery. The current proposal calls for 1-foot orthos to be acquired for each participating county, with an option for LiDAR acquisition as well. As with the other consortia, municipalities would have the option to partner with the counties for 6-inch imagery.
The U.S. Army Corps of Engineers (St. Louis) will develop contract specifications, negotiate pricing with the vendor (AERO-METRIC, Inc.), manage the technical aspects of the project, and perform quality assurance on the final imagery. The group is hoping to garner interest from other state, federal, and private partners in order to share the "burden" of the project costs across more organizations. Anyone interested in the North & West consortium should contact David Bonifas (MRRPC) at (608) 785-9396.
Vendors staying busy this year
The imagery acquisition workload in Wisconsin is spread out among several vendors in 2005. The majority of the counties in the state are working with Ayres Associates, which received the contracts for the Northeast and Southwest consortia. AERO-METRIC, Inc. is flying for the Southeast Wisconsin RPC. They used their new Digital Mapping Camera for most of the SEWRPC counties, and a film camera for the remainder. ImageAmerica was utilized by Shawano and Green Lake counties, while Horizons, Inc. flew for Eau Claire county.
Now that the spring flying season is over, the vendors are working diligently to deliver the products to their customers. Contract dates vary significantly throughout the state, but imagery for some customers will be arrive as early as August. Most counties will receive their imagery this fall and into early 2006.
Looking forward to 2010
Can we pull off a statewide orthophoto acquisition project in 2010? That remains to be seen, but if 2005 is any indication, we're definitely headed in the right direction. Clearly, cooperative efforts like those taking place in 2005 demonstrate the power of working together!