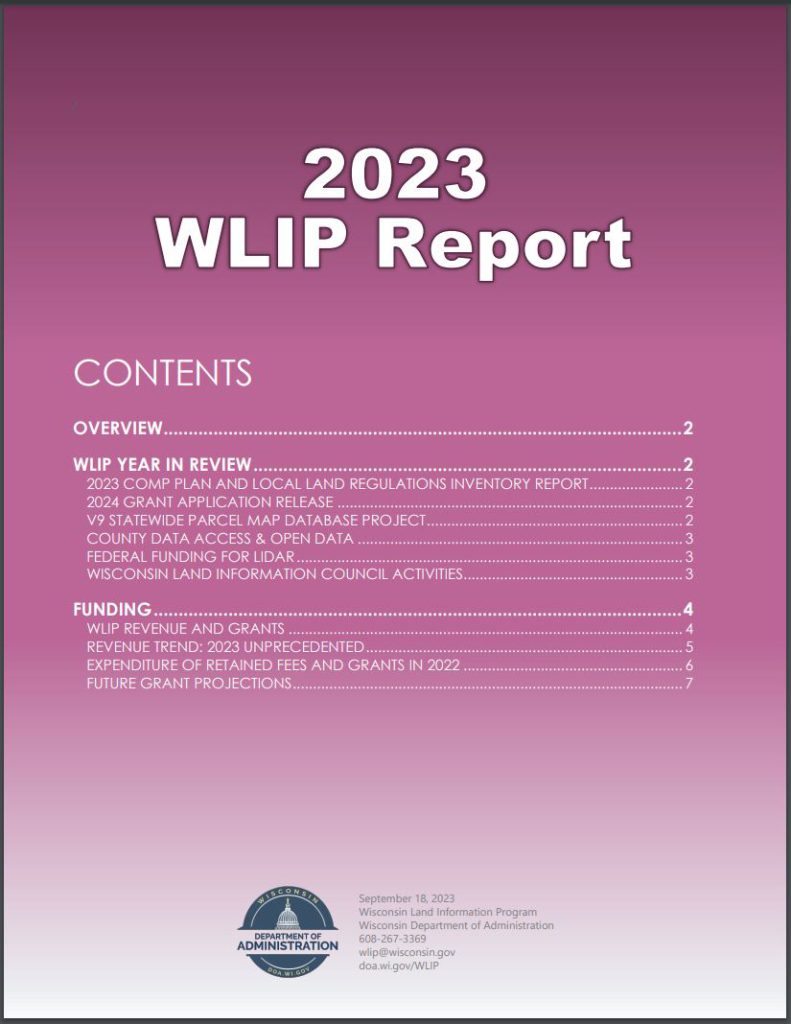 The Wisconsin Department of Administration (DOA) has published the 2023 Wisconsin Land Information Program (WLIP) Report, detailing the status of WLIP initiatives and funding levels. The report is available here on the WLIP webpage.
Funding
The WLIP is administered by the Division of Intergovernmental Relations at the DOA and provides public funding to Wisconsin counties for the modernization of land records. Funds derive from register of deeds real estate recording fees retained at the county level and grants awarded by DOA. Counties are required to submit, to the state Land Information Fund, $7 of each $30 document recording fee. In FY2023, $5.4 million was submitted to the fund. The remaining $23 of each $30 recording fee is retained at the county for land information and other undesignated uses.
For counties with modest real estate market activity, WLIP Base Budget grants are provided to help develop, maintain and operate a basic land information program. Counties that retain more than $100,000 in retained fees are not eligible for a Base Budget grant. Base Budget grants totaling $2.2 million statewide were awarded to 46 counties in 2023. From 1990 through June 30, 2023, Wisconsin counties have retained a total of $231 million for land information activities and received a total of $87 million in land information grants.
In FY2023, a little over 1/3 of WLIP funding to counties was used for the development and maintenance of county parcel datasets, including Public Land Survey System remonumentation and other parcel work. A little under 1/3 of the funding was used for computer hardware, software, and website development and hosting. Other expenditures include orthoimagery, LiDAR, the development of address points and street centerlines to meet Next Generation 9-1-1 standards, and administrative activities and management.
Comprehensive Plans
As noted in a companion publication, "2023 Wisconsin Comprehensive Plan and Local Land regulations Inventory Report" (Aug. 14, 2023), comprehensive planning at the local level guides the implementation of land use regulations, while changes to zoning and subdivision ordinances must be consistent with a comprehensive plan. However, the inventory report finds that:
Over half of local government comp plans are out of date.
479 local governments (25%) exercise general zoning or subdivision regulations but do not have a current comprehensive plan, which
may put them at more risk for violation of the Comprehensive Planning Law's consistency requirement.
39% of local governments have no ordinances posted online or are lacking a significant portion of ordinances posted online.
For each of Wisconsin's 1,922 counties, cities, villages and towns, the Comprehensive Plan and Land Regulations Inventory lists the last known date of comprehensive plan adoption, whether a zoning ordinance and/or subdivision ordinance has been adopted, and link to the local government's ordinances webpage.
WLIP Initiatives
The V9 statewide parcel database has been released. The parcel map webpage provides links for data downloads, a web app and more. Detailed analysis of V9 data can be found in the V9 Final Report. The Parcel Map web application underwent a significant overhaul for its 2023 release with technological changes, new capabilities and a new ArcGIS Online-hosted V9 parcel layer. The redesign focused on the user interface, with attribute search tips integrated directly into the query boxes as well as a basemap toggler for easier map layer control and enhanced attribute search functionality. An updated Public Land Survey System (PLSS) layer from local sources will be released later this year.
For the V9 project, the data request was coordinated with the UW-Madison Robinson Map Library (RML). RML collects and archives annual snapshots of numerous framework vector layers which are available for download via GeoData@Wisconsin. In 2023, 385 new county GIS datasets were added to GeoData@Wisconsin for public download.
With the completion of the FY22 lidar acquisition project, all 72 Wisconsin counties will have lidar elevation data meeting federal Quality Level 2 (QL2)  standard or better. County land information offices have been critical to the success of the statewide acquisition. In 2023, the Wisconsin Geographic Information Officer, Jim Giglierano, helped coordinate multi-county grant applications for QL2/QL1 lidar data through the federal USGS (US Geological Survey) 3D Elevation Program. With the most recent projects, a total of over $6.5 million in federal funding has been obtained by the state for LiDAR from 2015 to 2023.
Useful weblinks for LiDAR include the UW-Madison WisconsinView imagery archive, available through GeoData@Wisconsin, an interactive map, Department of Natural Resources streaming REST services and Open Data, and NOAA and USGS sites.
Future Funding
Land Information Fund revenue depends on real estate activity, which varies from year to year. For each of the last 30 years, the annual total has equaled almost 1.3 million documents recorded per year, corresponding to almost $9 million in Land Information Fund revenue at $7 submitted per document recorded. Due in large part to higher mortgage interest rates and a limited supply of housing on the market in 2023, register of deeds recordings have declined to their lowest point in 30 years. This is an unprecedented scenario.
The 2024 WLIP Grant Application offers three types of WLIP grants totaling $3.8 million. Each county is eligible to receive a $10,000 Strategic Initiative grant for 2024 (prioritized to meet standards known as "benchmarks" for parcel dataset development, which includes the annual
parcel/tax roll data submission) and a $1000 Training& Education grant. The 55 counties that retained less than $100,000 in recording fees during the previous fiscal year are eligible for Base Budget grants.
Further details can be found in the online publication.