Progress on the 2017 USDA National Agriculture Imagery Program is forging ahead despite the persistent rainy weather we've experienced this summer.
Roughly a third of the state has been acquired as of today. For comparison, the state was nearly complete by this time in 2013.  The NAIP flying season for Wisconsin is officially June 20 through August 31.
Administered by the USDA Farm Service Agency (FSA) through the Aerial Photography Field Office (APFO) in Salt Lake City, the program acquires aerial imagery during the agricultural growing seasons in the continental United States.  Wisconsin was last flown during the summer of 2015. Surdex was awarded the 2017 contract for Wisconsin.
The 2017 NAIP imagery delivered to APFO by their contractors will have a 1-meter spatial resolution, and include four spectral bands: RGB and near-infrared.  The primary product is tiled by counties in a compressed MrSID format; additional USGS quadrangle-based GeoTIFF tiles are often made available through state partners like WisconsinView.
Imagery is delivered to APFO from the contractors within 30 days after the end of the flying season, and then Compressed County Mosaics (CCMs) are made available as a free download from the Natural Resources Conservation Service (NRCS) Geospatial Data Gateway.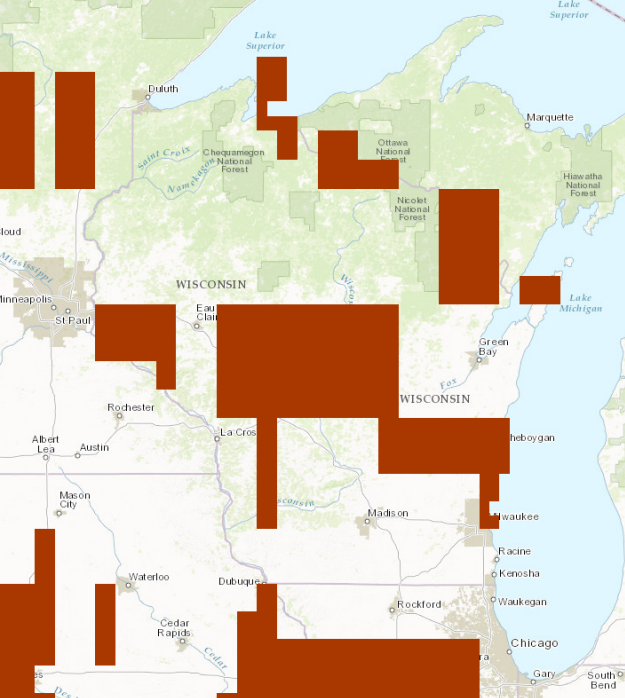 NAIP imagery acquisition status as of July 21, 2017.