The National Geodetic Survey (NGS) is the federal agency responsible for maintaining the nationwide survey control network. Beginning in the 1800s the NGS and its predecessor agencies created and maintained this network while gaining a better understanding of the shape of the earth and its dynamic nature. With the exponential increase in surveying accuracy in recent decades it has become clear that surveying monuments once thought of as fixed in place are actually moving with the earth's crust.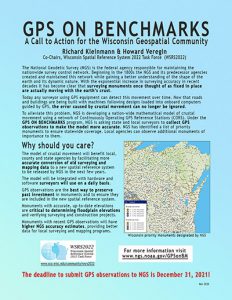 Today any surveyor using GPS equipment can detect this movement over time. Now that roads and buildings are being built with machines following designs loaded into onboard computers guided by GPS, the error caused by crustal movement can no longer be ignored.
To alleviate this problem, NGS is developing a nation-wide mathematical model of crustal movement using a network of Continuously Operating GPS Reference Stations (CORS). Under the GPS on Benchmarks program, NGS is asking state and local surveyors to collect GPS observations to make the model more accurate.
NGS has identified a list of priority monuments to ensure statewide coverage. You can find those on this NGS web map.
Participating in the GPS on Benchmarks program has many benefits at the local, county and state level: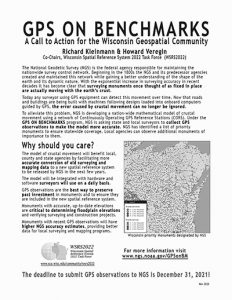 The model of crustal movement will benefit local, county and state agencies by facilitating more accurate conversion of old surveying and mapping data to a new spatial reference system to be released by NGS in the next few years.
The model will be integrated with hardware and software surveyors will use on a daily basis.
GPS observations are the best way to preserve past investment in monuments and to ensure they are included in the new spatial reference system.
Monuments with accurate, up-to-date elevations are critical to determining floodplain elevations and verifying surveying and construction projects.
Monuments with recent GPS observations will have higher NGS accuracy estimates, providing better data for local surveying and mapping programs.
The deadline to submit GPS observations to NGS is December 31, 2021!
One-page flyers that can be used to help educate officials about this important program can be found here: color version; black and white version.
PDF versions are also available! Color PDF. Black and white PDF.
For more information on this program, please contact Richard Kleinmann or Howard Veregin, co-Chairs of the Wisconsin Spatial Reference System 2022 Task Force (WSRS2022). For information about WSRS2022 visit our webpage.